Welcome To Fluid Movements Equine

I have always been fascinated with balanced movement. Efficient movement is an expression of joy. I love to observe and understand what allows it to flow freely, what blocks it, what makes it asymmetrical, or stifles it.
What are the patterns and belief systems, that we continually repeat (physical, mental, emotional or energetic) that keep us in this place?
What boundaries may be infringed (physical, mental, emotional or energetic; pain and belief systems) that may cause the body or mind to restrict, guard and lock, in order to try and protect?

The puzzle is to hear what the body is trying to tell us and renegotiate those boundaries. What are the things that we can change, or be mindful of, to allow a different path?
Balance and freedom come from looking at and addressing as many facets as we can:
Diet: Sufficient Forage? Correct nutrition? Ulcers/Gut Health or Soreness, Haynet placement -affecting symmetry of movement & teeth
Equipment and Tack: Restrictions, Comfort, Balance of the rider, Where the Rider's weight is -especially short coupled horses
Saddles: Fit against the horse, Blocking of shoulderblade, Gullet width, Tree points, How it affects rider balance/security/weight distribution
Saddle pads: Effective spreading of load, Amount of spring vs stability (for horse or rider), Edge of pad on rib angle or edge of saddle panel.
Rider's body straightness affecting the horse; Rider/Handler's mental state affecting the horse; Rider's Mental images, Thoughts and Focus
Teeth Balance: affecting Comfort, Mouth Ulcers, Health, Wolf Teeth, Jaw Movement, Poll, Turning, Body Balance
Bridles: Bits, Leverage, Space in Mouth, Pinching Nerves -Ears & Facial, Leverage of cheek pieces on teeth, Buckles, Poll pressure.
Cranial Compression greatly affects whole body balance: Pull back injuries, Kicks & Bangs, Dictation of head position. When out of balance, the cranium can lock the pelvis, shoulders, neck, poll and whole body out of line, creating asymmetry that is challenging to resolve by other means. The cause may be from cranial and fascial tensions arising from the head rather than where the asymmetry presents in the body.
Handling: Respectful? Clear? Allowing the horse time to Organise HIMSELF? Giving HIM self-responsibility for SELF-control. Partnership. Relationship
Field and Stable companions (Human and Equine): Lack of companionship, Stressful Field/Stable mate, Bullying, Pair bonding
Environment: Stress? Sufficient Mental Stimulus? Too much Mental Stimulus? Sufficient Movement?
Foot Balance & Health: Abscesses? Infections? Foot Balance or Comfort affecting body use & Gait. Body balance affecting foot balance
Shoulder imbalances: linked to Boxy foot/Splayed foot, Handedness, Cranial imbalances.
Land energy within stables or enclosed environments: Horses are extremely Sensitive to things we may be less able to perceive -rather like living under an electricity pylon or by a sub-station hum. This can cause dis-ease both mentally and health-wise; It can contribute to weaving, box walking & barging
A multidisciplinary approach, and potent, yet subtle, tissue and energy techniques can be used to restore optimum balance and movement. Techniques include:
Structural & Movement Integration
Equine Natural Movement
Myofascial Integration
CranioSacral Therapy
Taping and Proprioceptive Techniques
Gait Analysis & Biomechanics
Mind/Body Clearing Techniques
Applied Equine Podiatry
I have a particular interest in:
Working on BOTH Horse and Rider in combination on the same day.... so that they can mesh together in an ideal way and I can strip out all the negative influences between them.
Relationship of Rider/Saddle/Horse Balance and its inter-effects; Especially on short-coupled horse and ponies
Gaited Horses & horses with breed specific movement patterns
Finding ideal movement for each of horse for their particular situation and anatomy
Head-shy, Unpredictable or Spooky horses
Minimising the impact of an Injury on the mind and body

I revel in finding the correct and best movement for each individual, be that horse or human.

Whenever it is possible, it is the highest benefit to do a session with both the horse and the rider on the same day. Both have a factory reset. No one then 'leads the other astray', no one has to compensate for the other. The two pieces fit together on the same page. A fresh start.
I love to see a body and mind 'coming home'. Being 'comfortable in your own skin'. I work on humans up to Olympic and International level in various disciplines, including unique and Paralympian individuals.
It is my belief that there is always another level to reach for. When we think we have reached our peak, it is usually because we have no knowledge in our current memory bank of what a place beyond this could be like. Breakthroughs often come from unthought of alternative perspectives.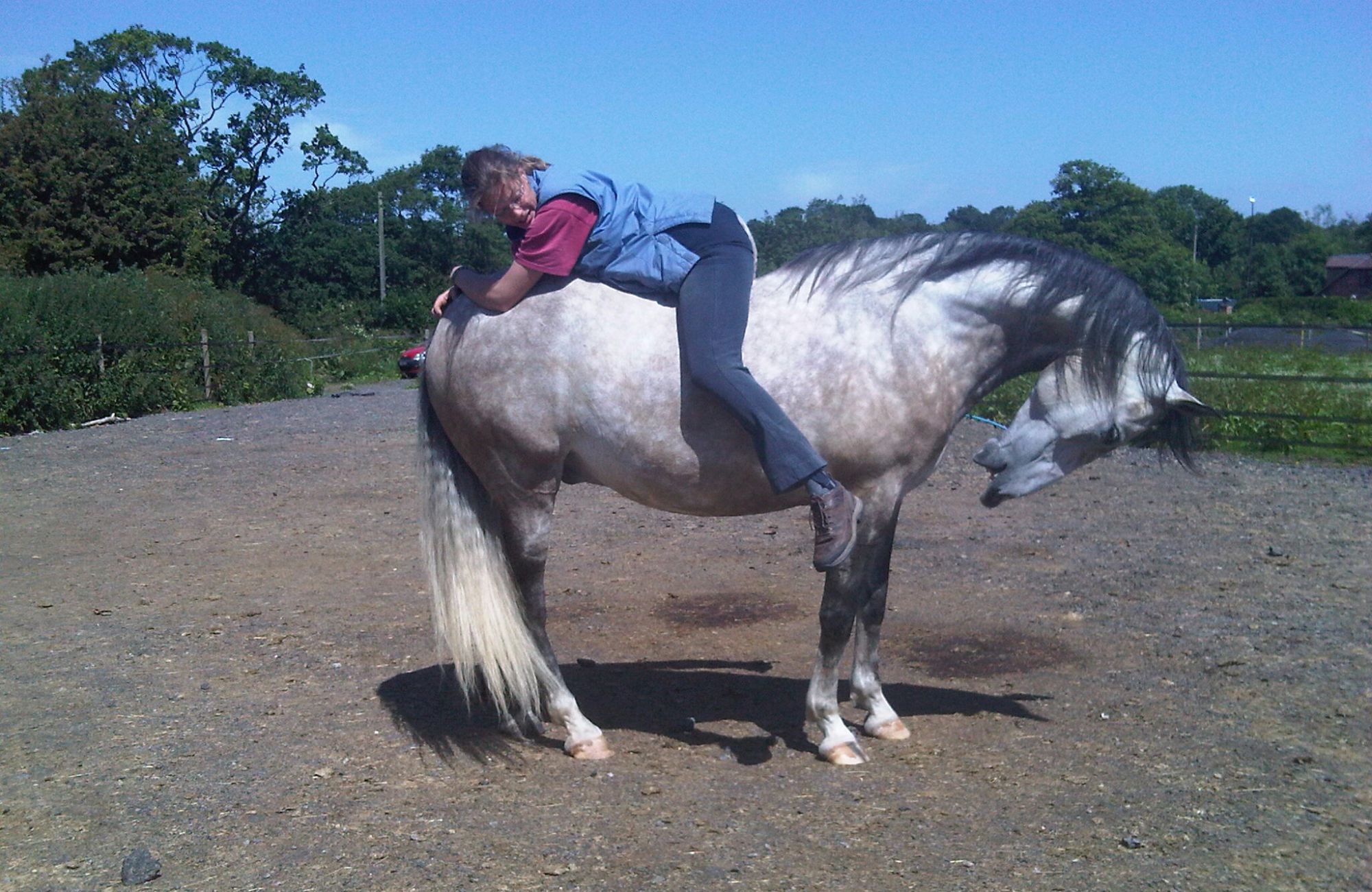 The ONLY way to do ROLKUR !!